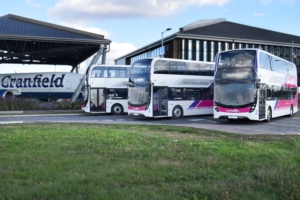 Uno Bus Hertfordshire operates the Cranfield Connect bus service on behalf of Cranfield University. The service connects Milton Keynes and nearby villages with the Cranfield campus, enabling students, staff, and visitors to benefit from a frequent bus service at reduced fares, subsidised by the university.
The bus service is part of Cranfield University's target to minimise carbon emissions by reducing single-car commutes to the campus by 50% by 2030.
We are pleased to have partnered with Uno Bus Hertfordshire and Alexander Dennis supplying Uno Bus with three new ADL Enviro400 double deck buses. Supplied on our flexible and cost-effective operating lease, the buses will join Uno Bus's modern fleet and will be used to run the Cranfield Connect service providing passengers with a safe and comfortable ride.