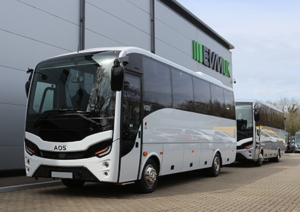 We are excited to be working with Pete's Airlink Limited, a Hampshire-based transport company providing quality transport solutions since 2008.
Specialising in minibuses, the company offers transport services for different occasions, including weddings, school trips, corporate events, and airport transfers and has a wide range of vehicles to cater to different group sizes and requirements.
We have recently supplied two new AOS Isuzu Grand Toro coaches to Pete's Airlink. They are a great addition to their fleet and offer high levels of comfort to passengers and drivers, making them perfect for short and medium-haul journeys.
The coaches are EURO 6 compliant and have a spacious interior and ample space for luggage storage. Designed with advanced features such as air conditioning and USB charging points, they ensure Pete's Airlink's passengers can enjoy a comfortable and relaxing journey to their destination.
"Having worked with Pete's Airlink since 2021, it was a pleasure to hand over these 2 new vehicles for use on their contract services," said Chris Mobbs, Regional Sales Manager at Dawsongroup bus and coach. "I'm very much looking forward to developing our relationship and supporting them over the coming years."
The AOS Isuzu Grand Toro coaches are supplied to Pete's Airlink on our flexible operating lease. This funding model allows the company to benefit from the latest vehicle technology without worrying about the financial risks that ownership comes with. They can now expand their range of services and focus on providing quality transport services to their customers.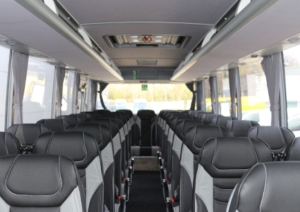 Click here to see how our cost-effective funding models can help you build your fleet without capital risk.
Follow us on social media to keep up to date with our latest news!