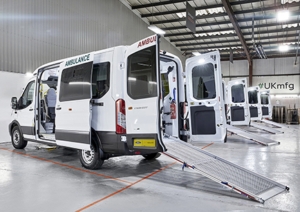 We are excited to be collaborating with Venari and TrustFord on the build of a new and enhanced multipurpose Patient Transport Service (PTS) vehicle.
Supplying an increasing number of PTS vehicles to a growing number of customers, we embarked on building a product suitable to an expanding market. We began consultations with TrustFord and Venari in 2021 as we wanted to provide a flexible PTS solution to a market which had an increasing demand for multipurpose vehicles. We discussed how the two companies could assist with the production of an improved, purpose-built PTS vehicle that would provide customers with the agility to adapt to changing transport demands while maintaining vital patient comfort and safety.
Built in Britain by some of the leading engineers in the industry, the innovative TrustFord Venari PTS vehicle has been designed with both patient and operator in mind. A high-quality premium Ford chassis is the foundation of the PTS vehicle, which has been developed with refined ergonomics and increased durability for patient safety and operator efficiency.
An adjustable interior layout gives the flexibility to configure the vehicle to meet specific patient transport requirements. With easy floor tracking, it allows for multiple configuration options, including the capacity to carry up to two wheelchairs or a stretcher, and a heavy-duty ramp facilitates bariatric use.
At the forefront of the latest technology, we also offer a hybrid model of the Ford Venari PTS, and in September 2022, South Central Ambulance Service NHS Foundation Trust became the first UK company to take delivery of hybrid Ford Venari PTS vehicles. A fully electric model based on the all-electric E-Transit is currently in development.
Fraser Innes, Sales Director at Dawsongroup bus and coach, said, "Dawsongroup bus and coach is committed to investment and continual development in the passenger transport sector, and we are delighted to be adding this exciting and versatile product to our range of accessible vehicles."
Joe Moran, Sales and Quality Manager at Venari Group, added, "We've been producing PTS vehicles at our Goole factory for decades and, as such, have evolved the quality, robustness and ergonomics in the production of thousands of vehicles. Now, however, the Ford Transit chassis provides a premium quality base vehicle, converted to the highest industry standard. It is a pleasure to provide Dawsongroup bus and coach with the first of what is rapidly becoming the industry standard – E-Transit ready too, to ensure fleets can continue to drive green agendas in line with overall increased PTS quality."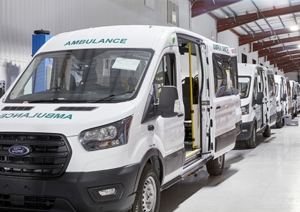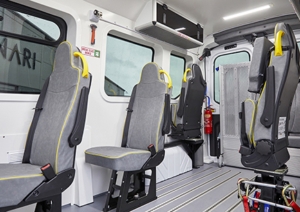 Mark Wilkie, Fleet and Commercial Vehicle Director at TrustFord, added, "TrustFord is delighted to play a key role in the collaboration between Dawsongroup bus and coach, Venari and Ford Motor Company in bringing this superior and first of its kind vehicle to the market. As well as vehicle supply, we look forward to supporting them with our fleet aftersales proposition, including our industry-leading Mobile Service offering."
We offer fully supported and flexible contract hire solutions, providing our customers with the capability to achieve their goals, leverage their business and adapt to changing market demands.