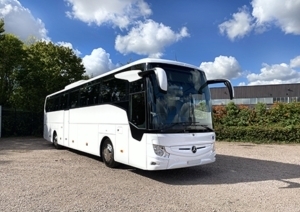 Airport Bus Express specialises in airport-to-city passenger transportation and has since 2015 operated a coach service linking London to Stansted Airport.
To Airport Bus Express, the needs and demands of its passengers are a priority, and the coaches used for its London-Stansted service are high-quality coaches providing passengers with a safe journey.
To assist Airport Bus Express in providing this high-level service, we have handed over five new PSVAR-compliant Mercedes-Benz Tourismo Access coaches to the company. The coaches are supplied with premium seats, USB sockets, and the facility for the operator to activate free Wi-Fi, giving passengers an enjoyable and comfortable journey to and from the airport.
The coaches are provided on our operating lease, based on a fixed monthly cost and minimal capital outlay without risk to the company's capital.
The vehicles have replaced five coaches used to run the service since 2017. They will ensure Airport Bus Express can continue to provide its passengers with reliable and high-quality service.