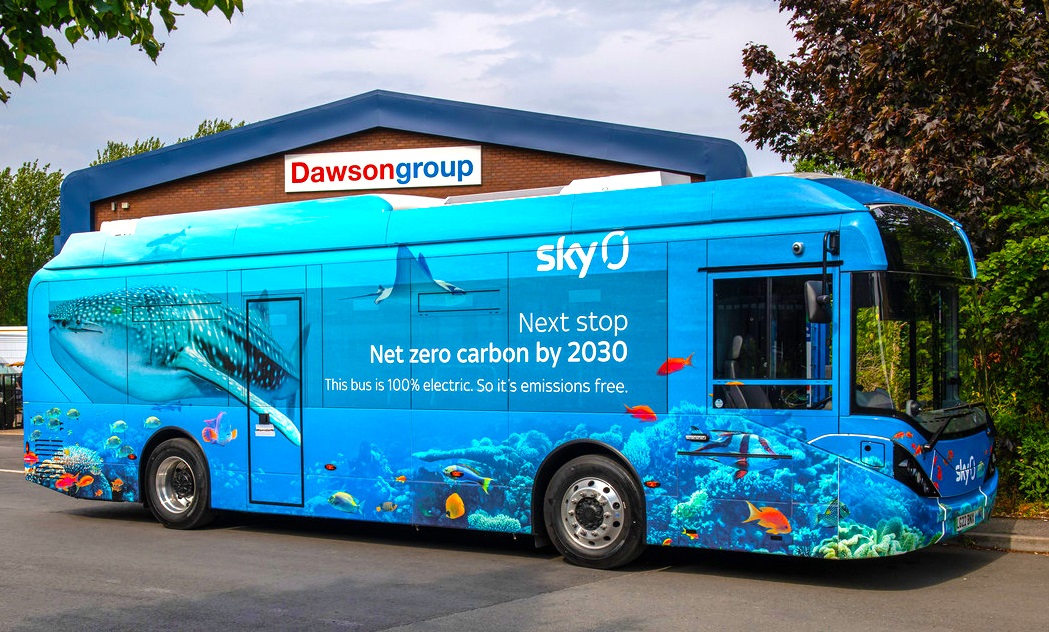 The demand for alternative fuels is changing. With the government's Net Zero Strategy and a desire to provide sustainable passenger transport solutions, bus and coach operators have begun transitioning to more sustainable passenger transport solutions. A transition that may raise questions for some regarding fuel technology, charging infrastructure and budget impacts.
Dawsongroup bus and coach (DGBC) works closely with our supply partners on innovative ways to minimise carbon emissions, and our modern fleet includes the latest technology in alternative fuel vehicles.
Together with Cobra Corporate Services (Cobra) and Alexander Dennis (ADL), we have recently introduced eight new BYD ADL Enviro200EV buses to Cobra's fleet. The buses are used for the complimentary employee/visitor shuttle bus service Cobra is running for Sky at its Livingston Campus in Scotland and Osterley Campus in London.
Benefitting from our longstanding partnership and our fully supported contract hire solution, Cobra has been able to concentrate on delivering the same high-quality service to Sky as it has been providing for the past nine years.
The all-electric, zero-emission buses have replaced non-electric vehicles and will assist Sky in reducing its carbon footprint and achieving its goal of becoming net-zero by 2030. The low-noise battery technology behind the BYD ADL Enviro200EV enables Cobra to run a full day's shuttle bus service on one charge, helps improve the air quality and provides a comfortable and sustainable journey for Sky's passengers.
Fraser Innes, Sales Director at Dawsongroup bus and coach, said, "This has been a fantastic project to be part of, from the early planning to the roll out of the product. We are delighted to have partnered with Cobra Corporate Services in providing this innovative solution for their client and supporting them with the premium service levels required over the years to come."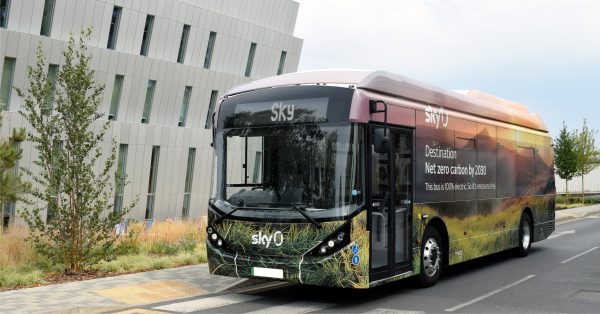 Martin West, Group Commercial Director at Alexander Dennis, said, "We are delighted to show the benefits of electric buses on staff shuttle services with this largest project of its kind in the country. Our British-built BYD ADL Enviro200EV is a great fit and incorporates unrivalled experience from over 1,000 electric buses on the road nationally, ensuring reliability and peace of mind for Cobra as the operator, as well as Dawsongroup as owner and provider of the vehicles."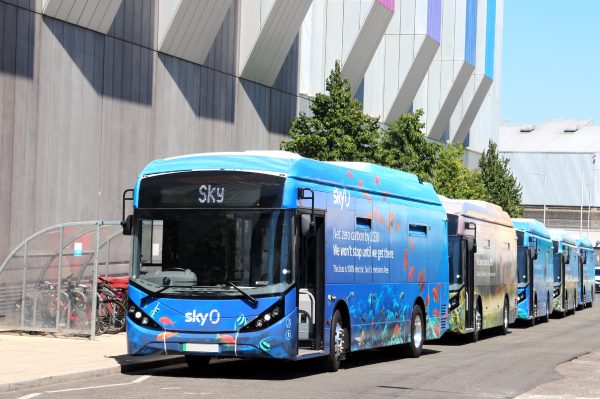 Steve Dowling, Director at Cobra Corporate Services Limited, said, "After many months of research, discussions, and preparation to ensure the correct products were used, BYD ADL are the right choice of electric bus for us to integrate into the Sky Zero strategy and the decision to continue the relationship with Dawsons and our chosen infrastructure suppliers made all the hard work that much easier. Pooling in knowledge from the industry leaders in bus and charger manufacturing has enabled a confident launch of service delivery as we enter our operations into the world of electrically propelled passenger transportation."
Frank Thorpe, Managing Director of BYD UK, said, "It is our pleasure to support Cobra and Dawsongroup with our advanced technology and products to implement electric, emissions-free transport for these shuttle bus services. Through our established electric bus partnership with Alexander Dennis, BYD has over 1400 units of eBuses in service or on order across the UK. We are proud to bring our eMobility solution to cities and suburbs, providing local people with a cleaner transport service while accelerating net-zero progress in the UK."
With a fleet of alternative fuel vehicles, from fully electric to gas-powered solutions, and our industry-leading contract hire packages, our Smarter Asset Strategy can help your business adapt as the deadline for zero emissions draws nearer. To find out how we can assist your business in the transition to a greener fleet, follow the link below to book a free consultation with one of our experts.
Find out more about Dawsongroup | bus and coach, contact us on LinkedIn or email us to see how our Smarter Asset Strategy can provide solutions for your company.