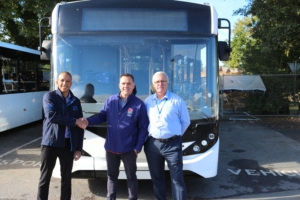 Ashford and St Peter's NHS Foundation Trust provides a range of acute care services across Ashford Hospital and St Peter's Hospital and specialist clinics in the local community.
Enabling its staff to travel easily between the two sites, the Trust runs a free daily shuttle bus service, The Hospital Hopper. Due to a need to increase passenger capacity for this service, the Trust has partnered with us in the supply of buses used for the shuttle bus service.
Supplied on our flexible and fully supported contract hire package, we have delivered two new ADL E200 buses enabling the Trust to adapt to the increased passenger demand.