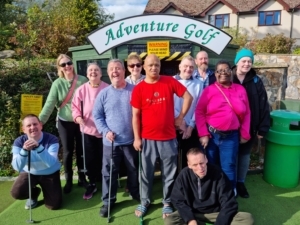 Arts for All is a London-based charity supporting the community of Tower Hamlets and Hackney. The charity provides art therapy sessions and creative clubs for adults and children who often face disadvantages in life.
Through their work and support, the charity is teaching new skills and building the confidence of the people attending its sessions while helping them to achieve their life goals.
As part of the charity's great work, it runs The Rainbow Art Club for adults with learning disabilities and older people. Once a year, The Rainbow Club adventures out on a fun-filled five-day holiday to Devon, packed with various activities and creativity.
We have worked closely with Arts for All's CEO, Caroline Barlow, for the past 7 years. We are pleased once again to be able to support Arts for All this year by supplying the charity with a 17-seat Ford Transit minibus free of charge. The minibus provides The Rainbow Club with a safe and comfortable journey when travelling to their annual holiday destination in Devon.
Caroline Barlow, CEO at Arts for All, said, "I find it hard to express how grateful I am to Dawsons for letting us use one of your beautiful minibuses each year to take this wonderful group of adults with learning disabilities on holiday. For most of them it is the only holiday they have ever had and it is the most important thing in their lives – they literally talk about it every day of the year!!! It is definitely accurate to say it is and always has been, completely life changing for them. So, once again, thank you!"