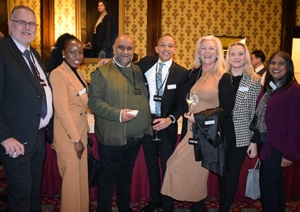 In December, we once again had the privilege of visiting the Palace of Westminster for our annual House of Lords evening reception.
As in previous years, the evening reception took place in the beautiful Peers' Dining Room at the House of Lords and was kindly sponsored by Lord Snape of Wednesbury.
However, this time the event was slightly different. In earlier years, the evening reception had been hosted in the summer but due to several rail strikes planned in London last year, we postponed the event until December. Even though the UK had been hit by a burst of Arctic air, with the weather reaching temperatures as low as -10°, London did not let us down. With its beautiful Christmas lights and great seasonal atmosphere, it was the perfect setting for the evening!
The annual evening reception is regarded by many people in the UK's passenger transport industry as the most important social event of the year to attend – and despite the transport difficulties getting to and around London, this time was no different! With over 100 people in attendance from across the country and abroad, including Lord Snape and some of our industry's top leadership, the dining room was filled with smiles and great conversation.
Once everyone had arrived and had a welcome drink in hand, the evening reception was officially opened by Paul Sainthouse, Managing Director of Dawsongroup bus and coach, as he extended a warm welcome to everyone and a special thanks to Lord Snape for his hospitality. Paul then delivered an entertaining speech before handing the podium over to Lord Snape.
As the evening came to a close, and people started making their way home through the busy streets of London, it became clear that the evening was yet another success and had become a memorable and enjoyable night for everyone involved. It facilitated conversations between top sector leaders and customers whilst providing us with an opportunity to create awareness of our business, our brand, and the services and solutions we offer to this very special industry.