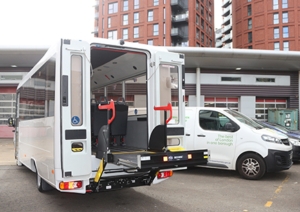 The London Borough of Tower Hamlets is a vibrant community with more than 200,000 residents. Tower Hamlets Council provides the local community with various benefits, including several transport services. These services include transport for children with special educational needs, community transport, and mobility bus services.
To support the council in delivering these services to the local community, we have supplied the council with a wide range of vehicles since 2018; from van-based and coachbuilt accessible minibuses to midi coaches.
Our partnership with the council continues to strengthen, and it continues to benefit from our flexible hire solutions. Enabling the council to respond to an increase in the demand for community transport, we have supplied a new Mercedes-Benz Sprinter accessible minibus. This will allow the council to continue offering its residents safe and comfortable transport services.
Saad Miah, Fleet & Depot Coordinator at London Borough of Tower Hamlets, said, "Dawsongroup bus & coach have been a great asset to the London Borough of Tower Hamlets. We started off with 3 buses on short-term hire and in 2020 awarded Dawsons a contract to supply our bus fleet of 59 vehicles through a competitive tender process. We have a dedicated contract manager and support team that provide excellent customer service on every occasion. With our growing confidence in Dawsons, we took the decision to rent a further x2 compact sweepers from their Sweeper division for our Street Cleansing service and I'm pleased to say the service and aftercare have been great!"