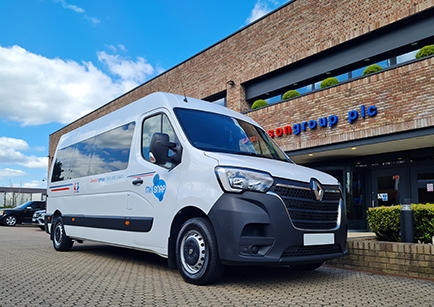 Milton Keynes-based MK SNAP (Special Needs Advancement Project) is an award-winning charity with a strong commitment to helping vulnerable adults develop life skills and achieve their goals.
Registered as a charity in 1992, MK SNAP is an accredited learning provider offering a diverse range of qualifications and courses specifically designed for adults with learning disabilities. Additionally, it provides a valuable employment service and supports learners in finding and maintaining employment in the local community.
Over the years, the charity has become an important resource for Milton Keynes and its surrounding areas.
Challenge
To fulfil its mission and provide comprehensive support to learners, MK SNAP heavily relies on donations and support from volunteers and local businesses. However, the charity faced a challenge:
MK SNAP's existing minibus was ageing and, as a standard vehicle, it did not meet the accessibility needs of learners with mobility issues. This limitation prevented some learners from easily accessing the charity's services within the local community.
Solution
Through our Corporate Social Responsibility Program, Open Hands, we recognised an opportunity to make a difference by partnering with MK SNAP.
We have donated an accessible minibus to the charity, specially equipped with features such as a wheelchair ramp, side steps, and a dedicated space for wheelchair users. This minibus ensures easy access for learners with mobility challenges.
Results
Our partnership with MK SNAP has enabled the charity to continue to provide safe and reliable transportation for its learners, making a difference to adults with learning disabilities in and around Milton Keynes.
The donated accessible minibus has empowered learners with mobility issues to access MK SNAP's services with ease, promoting inclusivity and equal opportunities for all individuals with learning disabilities.
Our commitment to making a difference in the local community has amplified MK SNAP's capacity to support vulnerable adults in Milton Keynes. By improving transportation facilities, the partnership has positively impacted the lives of individuals with learning disabilities and fostered their personal development and independence.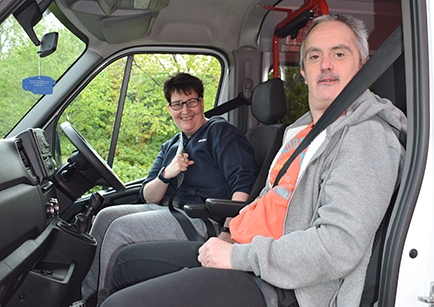 Conclusion
The collaboration exemplifies the power of corporate responsibility and community engagement and has not only improved transportation accessibility but also strengthened the charity's ability to create a positive impact in the lives of individuals with learning disabilities in Milton Keynes.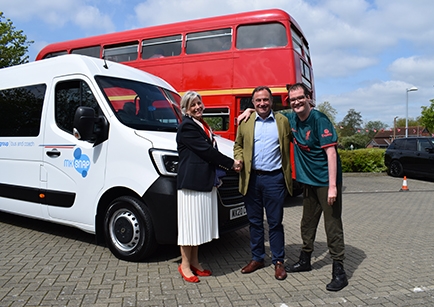 "WE WERE INTRODUCED TO MK SNAP AND THE GOOD WORK THEY DO TO SUPPORT ADULTS WITH LEARNING DISABILITIES BY THE MAYOR OF MILTON KEYNES, COUNCILLOR AMANDA MARLOW.
Dawsongroup is delighted to be supporting MK SNAP by donating a minibus and looking at ways to support the charity on a long-term basis. Our People Services department are encouraging our employees to donate some of their time through our employer-supported volunteering days. We have also introduced them to one of our renewable energy providers who will install solar panels to reduce the soaring costs of operating their facility."
Steve Miller, Dawsongroup CEO
"Dawsongroup bus and coach is excited to work with MK SNAP to make a difference. Their support of the local community is inspiring, and I am sure that our partnership will have a positive impact on the charity and its learners," said Paul Sainthouse, Managing Director of Dawsongroup bus and coach.
Click here to learn more about MK SNAP and its services, make a donation or volunteer your services.
Contact us to find out how we can support your business or charity, and find out more about Open Hands by clicking here.
Follow us on social media to stay up to date with our latest news!