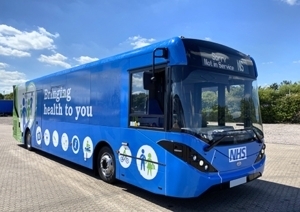 Berkshire Healthcare NHS Foundation Trust has taken its services on the road.
This autumn, Berkshire Healthcare NHS Foundation Trust has launched its new Health Bus, a mobile health service enabling the Trust to bring its services direct to local communities across Berkshire.
Through a consultative approach to our tailored solutions and working closely with the Trust, we were able to fulfil its requirements for a fully functioning mobile clinic. The Health Bus is a converted ADL Enviro200 bus equipped with a wheelchair ramp for easy access/exit, a private treatment area, a privacy curtain, a sink with warm water supply, a generator, and multiple electrical outlets.
The bus is supplied on our flexible and fully supported contract hire package which includes full maintenance and service throughout the contract, leaving the Trust to focus on providing a great service to the community.
We are proud to have worked with Berkshire Healthcare NHS Foundation Trust. Contact our team today to see how our tailored solutions and flexible contracts can help your business.