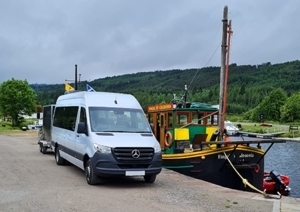 One of our Mercedes-Benz Sprinter minibuses parked next to the Fingal of Caledonia by the beautiful Caledonian Canal in Scotland.
The Mercedes-Benz Sprinter has been supplied to Skye Minibus Tours and enables the company to provide passengers who have been travelling with the Caledonian Sleeper with a safe and comfortable journey to the Caledonian Canal in Fort Augustus.
Robert Kyle founded Skye Minibus Tours in 2017 and has since offered guided tours of the scenic Isle of Skye and Fort William. We are pleased to be able to assist Robert as he takes people on a journey through the stunning Scottish countryside.